VICTORIES
NAME                                          CONFIRMED   DAMAGED      FTL        UNIT                COMMENTS

Astachov, Vladimír    Астахов Владимир            1          -          -         120 IAP
Gavrilov, Boris       Гаврилов Борис              1          -          -         120 IAP
Novikov, A.           Новиков А.                  1          -          -         979 IAP





Mikojan-Gurjevič MiG-23MLD, "white 58", Pilot Maj. Vladimír Astachov 120. IAP, 23. VA.
Flown this aircraft he intercept Iranian helicopters on 26th September 1988.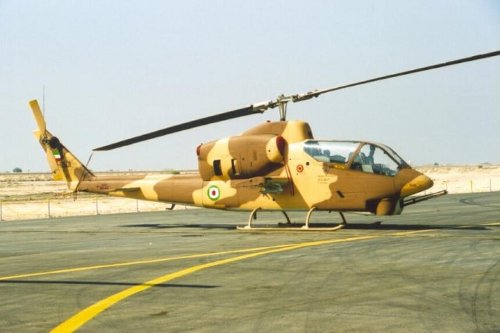 Bell AH-1J SuperCobra, Islamic Republic of Iran Air Force نیروی هوایی ارتش جمهوری اسلامی ایران .
---
---
Sources & Literature
Brzkovský, Marek: Rudé hvězdy nad Afghánistánem, Válka ve vzduchu, in Válka revue, Speciál - Sověti v Afghánistánu, 3. květen 2019.
Brzkovský, Marek: Sovětské letectvo ve válce nad Afghánistánem, in Fakta & Svědectví, No. 12, 2022.
Gordon, Yefim – Komissarov, Dmitrii: Soviet Air Defence Aviation 1945–1991, Hikoki Publications Ltd, 2012.
Gordon, Jefim – Komissarov, Dmitrij: Sovětské letectvo protivzdušné obrany v letech 1945-1991, Naše vojsko, Praha, 2017.
Марковский, Виктор Юрьевич: Жаркое небо Афганистана 1979-1989, Техника – молодежи, 2000 г.
Марковский, Виктор Юрьевич - Приходченко, Игорь Владимирович: Камуфляж и бортовые эмблемы авиатехники советских ВВС в афганской кампании, Война и мы, Авиаколлекция, Яуза - Эксмо, Москва 2017.
Polák, Tomáš – Shores, Christopher: Stalin's Falcons, The Aces of The Red Star, A Tribute To The Notable Fighter Pilots of The Soviet Air Force 1918-1953, Grub Street 1999.
Жирохов, Михаил - Васильчик, Андрей: Щучинские орлы в Афгане, in М-Хобби, No. 02 (142), 2013.


ACIG Team: Soviet Air-to-Air Victories of the Cold War, List of confirmed, claimed, and probable air-to-air victories scored by the Soviet pilots in different engagements during the Cold War, 1948-1989, http://www.acig.org/artman/publish/article_301.shtml, http://s188567700.online.de/CMS/index.php?option=com_content&task=view&id=53&Itemid=47.
Gleize, Jean-Paul: Aces, http://www.igleize.fr/aces/homeaces.htm.
Magnus, Alan: Air Aces Home Page, http://users.accesscomm.ca/magnusfamily/airaces1.htm.
Марковский, Виктор Юрьевич: Жаркое небо Афганистана 1979-1989, Техника – молодежи, 2000 г., http://militera.lib.ru/h/markovsky/index.html, http://www.kulichki.com/moshkow/MEMUARY/AFGAN/nebo.txt.
Марковский, Виктор Юрьевич: Жаркое небо Афганистана, Война в воздухе, Из книги «Жаркое небо Афганистана 1979-1989», изд. «Техника – молодежи, 2000 г., http://www.otvaga2004.narod.ru/publ_w4/069_airwar.htm.
МиГ-23, Википедия—свободная энциклопедия, http://ru.wikipedia.org/wiki/МиГ-23.
Mikoyan-Gurevich MiG-23, WikipediA, The Free Encyclopedia, http://en.wikipedia.org/wiki/Mikoyan-Gurevich_MiG-23.
---