NAME                           GROUND VICTORIES      UNIT       COMMENTS

Chandler, Kenneth D.                   4          336th FIS     + 1 air
Kincheloe, Iven Carl, Jr.              4           25th FIS     + 5 air
Price, Harold L.                       4           80th FBS
Samways, William T.                    4            8th FBG
Harris, Elmer W.                       3           25th FIS     + 3 air
Mullins, Arnold                        3           67th FBS     + 1 air
Ellis, Ralph A.                        2           36th FBS
Falkberg, Ernest D.                    2           80th FBS
Gasser, James A.                       2           36th FBS
Hansen, Homer K.                       2           36th FBS
Marsh, Roy W.                          2           80th FBS     + 1 air
Walsh, Robert A.                       2           80th FBS
Watts, Jack D.                         2           80th FBS
Cardarella, Vincent C.                 1           35th FBS 
Dougherty, William P.                  1           35th FBS
Hall, Ralph G.                         1           35th FBS
Hoagland, Edward C., Jr.               1           67th FBS
Price, Howard I.                       1           67th FBS     + 1 air
Radcliff, Wen E.                       1           35th FBS
                                    ______
Total                                 42 


---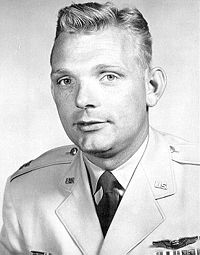 Iven Carl Kincheloe, Jr..

North American F-51 Mustang, S. No. 44-75728, Maj. Arnold 'Moon' Mullins, 67th FBS / 18th FBW.

Lockheed F-80C-10-LO Shooting Star, S.No. 49-748, "Beer City Special - Miss BB II", 36th FBS / 8th FBG, Suwon (Korea), Autumn 1952.

North American Aviation F-86E-10-NA Sabre, S.No. 51-2731, "Ivan", Capt. Iven C. Kincheloe, Jr., 25th FIS / 51st FIW.
---
---
Sources & Literature
USAF Credits for the Destruction of Enemy Aircraft, Korean War, USAF Historical Study No. 81, USAF Historical Division, Aerospace Studies Institute, Air University, June 1963.
Korean War - Sources & Literature

---