NAME                      VICTORIES    AIRFORCE   UNIT

Blengkam, Kamrop              1.5      RTAF       Foong Bin 16/Foong Khap Lai 60
Chalermkiat, Wattanangura     1        RTAF
Intapura, Sak                 1        RTAF       Foong Bin 16
Sangwan, Worrasap             1        RTAF       Foong Khap Lai 60
Thongkam                      0.5      RTAF       Foong Khap Lai 60


RTAF ... Royal Thai Air Force (RSAF - Royal Siamese Air Force)
---
Thai Air-to-Air Victories
| Date | Aircraft | Pilot | Victim | Country |
| --- | --- | --- | --- | --- |
| 10.01.1941 | Curtiss Hawk H.75N | Blengkam,K. | 0.5 MS.406 | Armeé de L'Air |
| 10.01.1941 | Curtiss Hawk H.75N | Thongkam | 0.5 MS.406 | Armeé de L'Air |
| 10.01.1941 | Curtiss Hawk H.75N | Sangwan,W. | MS.406 | Armeé de L'Air |
| 10.01.1941 | Curtiss Hawk II | Chalermkiat,W. | Potez 25 | Armeé de L'Air |
| 11.11.1944 | Ki-27 | Blengkam,K. | P-38 | USAAF |
| ? | Ki-43 | Intapura,S. | B-29 | USAAF |
H.75N, Foong Khap Lai 60, Royal Thai Air Force.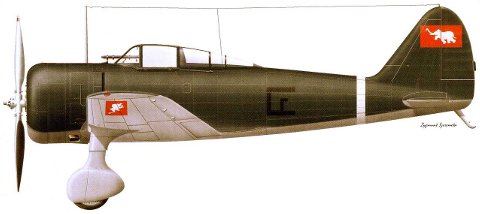 Nakajima Ki-27 Nate, Royal Thai Air Force.

Nakajima Ki-43-II-otsu Hayabusa / Oscar, Royal Thai Air Force.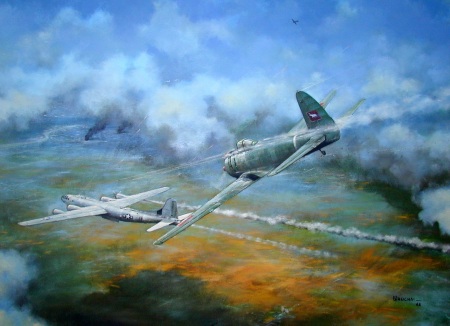 http://thaimilitary.wordpress.com
Nakajima Ki-43 Hayabusa in the air battle with B-29.
---
Sources & Literature
Ehrengardt, Christian-Jacques: Ciel de feu en Indochine 1939-1945, in Aéro Journal, No.29, Fév-Mars 2003.
Gleize, Jean-Paul: Aces, http://jpgleize.perso.neuf.fr/aces/homeaces.htm.
Magnus, Allan: Air Aces Home Page, http://users.accesscomm.ca/magnusfamily/airaces1.htm.
Mietelski, Michael M.: Samolot mysliwski Curtiss Hawk 75, Typy broni i uzbrojenia 113, Wydawnictwo Ministerstwa Obrony Narodowej, Warszawa 1987.
Nakajima Ki-27, История создания и применения, Война в воздухе, № 101.
Royal Thai Air Force Museum, http://www.rtaf.mi.th/museum/paints.htm
Shores, Christopher - Cull, Brian - Izawa, Yasuho: Krvavá jatka I. díl (Bloody Shambles, Volume 1, The Drift to War and the Fall of Singapore), Mustang, Plzeň 1994.
Young, Edward M.: Aerial Nationalism: A History of Aviation in Thailand, Smithsonian University Press, 1995.
Young, Edward M.: France's Forgotten Air War, AIR Enthusiast, No.25, August-Nov 1984.
Wieliczko, Leszek A. - Szeremeta, Zygmunt: Nakajima Ki-27 Nate, Monographs No. 3011, Kagero Publications, 2004.
---