Royal Saudi Air Force / Al Quwwat al Jawwiya as Sa'udiya


NAME                                      VICTORIES                UNIT                AIRFORCE

al-Shamrani ,Ayed Salah                       2                    13 Squadron         RSAF


RSAF ... Royal Saudi Air Force / Al Quwwat al Jawwiya as Sa'udiya
---
Air-to-Air Victories
Date
Unit
Aircraft
Pilot
Victim
Weapon
Place
Country
24Jan1991
13 Squadron
RSAF
F-15C
80-0068, 509
A.S. al-Shamrani
Mirage F.1EQ-5
AIM-9P
coast,
Perisan Gulf
IrAF
24Jan1991
13 Squadron
RSAF
F-15C
80-0068, 509
A.S. al-Shamrani
Mirage F.1EQ-5
AIM-9P
coast,
Perisan Gulf
IrAF
---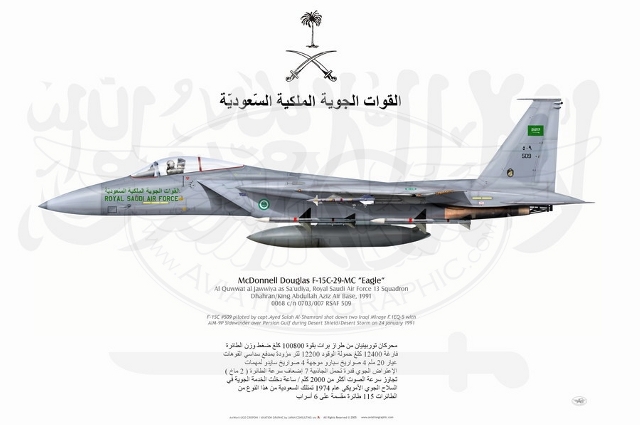 http://www.aviationgraphic.com/
Mc Donell Douglas F-15C-29-MC "Eagle"
F-15C #509 piloted by capt. Ayed Salah Al-Shamrani shot down two Iraqi Mirage F.1EQ-5 with AIM-9P Sidewinder over Persian Gulf during Desert Shield/Desert Storm on 24 january 1991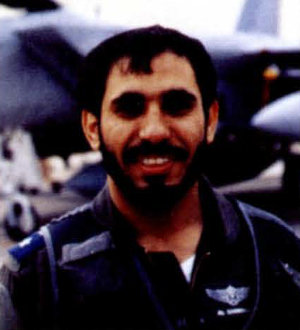 Capt Ayehid Salah ai-Shamrani.
---
Sources & Literature
Davies, Steve: F-15 Eagle a Strike Eagle, edice Bojové legendy, Nakl. Jan Vašut, Praha 2004.
Davies, Steve: F-15C Eagle Units in Combat, Combat Aircraft 53, Osprey Publishing, January 1 2005.
Davies, Steve - Dildy, Doug: F-15 Eagle Engaged, The World's Most Successful Jet Fighter, Osprey Publishing, 2007.
Drendel, Lou: ... and Kill Migs, 3rd Edition, Squadron/Signal Press, Carrollton, Texas 1997.
McCarthy, Donald J., Jr.: The Raptors: All F-15 and F-16 Aerial Combat Victories, Schiffer Military History, 1 edition, March 28, 2017.
Olynyk, Frank J.: United States Credits for the Destruction of Enemy Aircraft in Air-to-Air Combat Post World War Two, Victory List No.10, self published, Aurora, Ohio, January 1999.
Strandberg, Bill, Jr.: Gulf War Shooters: Aerial Victories in the Desert.
Šmýra, František - Polák, Tomáš - Chalas, Oliver: Vojenská letectva v operaci "Pouštní štít/Pouštní bouře", III. "Bouře nad Irákem", prvních deset dní, in Plastic Kits Revue, No. 08, 1992.
Wieliczko, Leszek A.: F-15 na świecie, in Lotnictwo, Nr. 7-8, 2019


ACIG: Different Middle Eastern Air-to-Air Victories since 1964, List of confirmed, claimed, and probable air-to-air victories scored by Jordanian, Libyan and Saudi pilots since 1964, http://www.acig.org/artman/publish/article_436.shtml, http://s188567700.online.de/CMS/index.php?option=com_content&task=view&id=181&Itemid=47.
Air Combat Kills, http://www.angelfire.com/fl/insaloco/airkills2.html.
Baugher, Joseph: Service of F-15 with Saudi Arabia, http://www.airtoaircombat.com/background.asp?id=11&bg=22.
Ciel De Gloire - Histoire des As de L Aviation de 1914 a nos jours, http://www.cieldegloire.com/.
Gleize, Jean-Paul: Aces, http://www.igleize.fr/aces/homeaces.htm.
Leone, Dario: The Controversial Kills Scored By Saudi F-15s During Operation Desert Storm, The Aviation Geek Club, https://theaviationgeekclub.com/controversial-kills-scored-saudi-f-15s-operation-desert-storm/.
Magnus, Allan: Air Aces Home Page, http://users.accesscomm.ca/magnusfamily/airaces1.htm.
Malovany, Pesach: Wars of Modern Babylon, A History of the Iraqi Army from 1921 to 2003, The University Press of Kentucky, 2007. ISBN: 978-0-8131-6943-9
Service of F-15 with Saudi Arabia, http://home.att.net/~jbaugher1/f15_14.html.
---