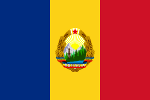 ROMANIA
Cold War


Name                        Victories        FTL           Unit            Comments

unknown                         -             1 [0+1]      91st Fig. Reg.  1.
unknown                         -             1 [0+1]      91st Fig. Reg.  1.


Comments:
19 May 1978 Two mechanics employed by CIPA (Centrul de Instruire a Personalului Aeronautic; Center for Aeronautical Personnel Training) at the Baneasa airportin Bucharest Romania stole a Britten Norman BN-2-A27 Islander (YR-BNK). This aircraft had been produced under license by IRMA (Intreprinderea de Reparatii Material Aeronautic; Enterprise for Aeronautical Material Repairement, now called Romaero) and was one of the aircraft of this type allocated to Aviasan, a nation-wide emergency medical flying service. Consequently, it sported large Red Cross signs on the fuselage and wings. After the Islander took off, a pair of Romanian MiG-21 Fishbeds from the 91st Fighter Regiment at Deveselu were scrambled, but due to a misunderstanding on the radio, they instead intercepted and forced down a Romanian An-2 Colt. Two other Romanian MiG-21 Fishbeds from the 93rd regiment at Giarmata (near Timisoara) did intercept the Islander and order it to land at the Arad airport. However, the MiG-21s were low on fuel and had to return to their base. The Islander then continued on and crossed Hungary from south-east to north-west before landing in a field in Austria near Vienna. The landing gear was slightly damaged in the off-field landing. Several workers from IRMA were sent to Austria to dismantle the aircraft and it was returned to Romania in a truck. The two mechanics were granted asylum.
---
Sources & Literature
Lednicer, David: Intrusions, Overflights, Shootdowns and Defections During the Cold War and Thereafter, http://myplace.frontier.com/~anneled/ColdWar.html.
---

Copyright © Jan Josef ŠAFAŘÍK
Generated: Fri Sep 4 06:40:51 CEST 2009