Imperial Russian Air Force - Императорскiй военно-воздушный флотъ


VICTORIES
NAME                                                 CONFIRMED UNCONFIRMED    COMMENTS

Suk, Grigorij Eduardovič     Сук Григорий Эдуардович     9          1         3.
Leman, Ernst Krislanovič     Леман Эрнст Христианович    5

Comments:
Grigorij Eduardovič Suk was son of Russian and Czech parents. He achieved nine confirmed victories and one unconfirmed victory. According to some sources he was credited with seven victories (Kulikov, Viktor P. - Šedivý, Miloš: Se soudruhy v ráji, in Aero Plastic Kits Revue, No. 55/1996, No. 56/1996, No. 57/1997, No. 58/1997).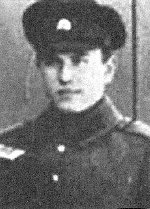 Ernst Krislanovič Leman
Эрнст Христианович Леман
---
Sources & Literature
Абрамов, Александр: Красные соколы, Лучшие Асы России, 1914 - 1953 гг., http://airaces.narod.ru/
Franks, Norman - Guest Russell - Alegi, Gregory - Above The War Fronts (A Complete Record of The British Two-Seater Bomber Pilot And Observer Aces, The British Two-Seater Fighter Observer Aces, And The Belgian, Italian, Austro-Hungarian And Russian Fighter Aces 1914-1918), Grub Street, London 1997.
Gleize, Jean-Paul: Aces, http://www.igleize.fr/aces/homeaces.htm.
---