VICTORIES
NAME                    DESTROYED  PROBABLE  DAMAGED    OTHER        UNIT        COMMENTS

unknown                     1 [0+1]    -        -                    2 Squadron
unknown                     -          -        -         1          2 Squadron
unknown                     -          -        -         1          2 Squadron
unknown                     -          -        -         1          2 Squadron

---
Air-to-Air Victories
| Date | Unit | Aircraft | Pilot | Victim | Result | Country |
| --- | --- | --- | --- | --- | --- | --- |
| 02.05.1941 | 2 Squadron | Gladiator | unknown | Hawker Audax | destroyed on the ground | RAF |
| 02.05.1941 | 2 Squadron | Gladiator | unknown | Hawker Audax | destroyed on the ground | RAF |
| 02.05.1941 | 2 Squadron | Gladiator I | unknown | Airspeed Oxford | destroyed on the ground | RAF |
| 04.05.1941 | 2 Squadron | Gladiator | unknown | Vickers Wellington | shared destroyed(a) | RAF |
(a) Shared with Anti-aircraft artillery.


---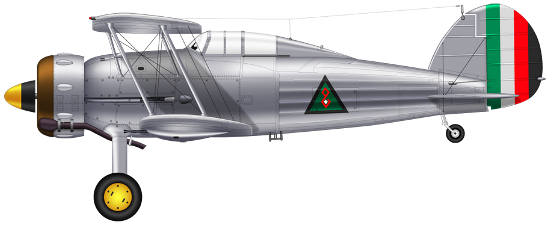 © Clavework Graphics, http://www.clavework-graphics.co.uk/
Gloster Gladiator, Royal Iraqi Air Force.
---
Sources & Literature
Belcarz, Bartlomiej - Peczkowski, Robert: Gloster Gladiator, Monographie Lotnicze No. 24, AJ-Press, Gdansk, 1996.
Dudgeon, Tony: The War That Never Was, Airlife Publishing Ltd, 1991.
Hornát, Jiří: Gloster G.37, S.S.37 Gladiator, Sea Gladiator, part four, Letectví+kosmonautika, No. 24, 1994
Lyman, Robert: Iraq 1941: The battles for Basra, Habbaniya, Fallujah and Baghdad, Campaign 165, Osprey Publishing, 2006.
Pejčoch, Ivo: Gloster Gladiator, edice Bojové legendy, Nakladatelství Jan Vašut, Praha 2008.
Shores, Christopher: Dust Clouds in the Middle East, The Air War for East Africa, Iraq, Syria, Iran and Madagascar, 1940-1942, Grub Street, London, June 1, 1996.
Shores, Christopher: Those Other Eagles: A Tribute To The British, Commonwealth And Free European Fighter Pilots Who Claimed Between Two And Four Victories In Aerial Combat, 1939 - 1982 (A Companion Volume to Aces High), Grub Street, London, October 3, 2004.
Šnajdr, Miroslav: Gladiator a Sea Gladiator, part three, Historie a plastikové modelářství, No. 3, 2004.
Aeroplane Monthly, September, October and November 1981.
The Battle for Habbaniya - The forgotten war, http://www.raf.mod.uk/history_old/opsrep.html.
The Iraqi Revolt, http://www.geocities.com/acrawford0/revolt.html.
Iraqi Air Force Gladiators, http://www.geocities.com/acrawford0/iraqiair.html.
Gustavsson, Håkan: Biplane Fighter Aces from the Second World War, http://surfcity.kund.dalnet.se/index.html.
Gloster Gladiator, http://en.wikipedia.org/wiki/Gloster_Gladiator#Anglo-Iraqi_War.
The Iraq Coup Attempt of 1941, the Mufti, and the Farhud, http://www.mideastweb.org/iraqaxiscoup.htm.
---