NAME                      VICTORIES      UNIT                        COMMENTS

Mátyásffy, József             1          Red Hungarian Air Corps     1.
Újváry, László                1          8th Red Fighter Squadron
Keisz, Géza                   1          8th Red Fighter Squadron    observer

Comments:
Vörös Légjárócsapat: Red Hungarian Air Corps
8. Vörös Repuloszázad: 8th Red Fighter Squadron
József Mátyásffy was Josef Kretz during World War I, later he changed his name.
László Újváry achieved other four confirmed victories during World War I.
---
Air-to-Air Victories
Date
Unit
Aircraft
Pilot
Victim
Country
12.06.1919
Fokker D.VII
Újváry,L.
Keisz,G.
e/a
Rumanian
15.06.1919
8.század
Aviatik D.I
(348.46)
Mátyásffy,J.
Breguet XIV
Czechoslovakian
---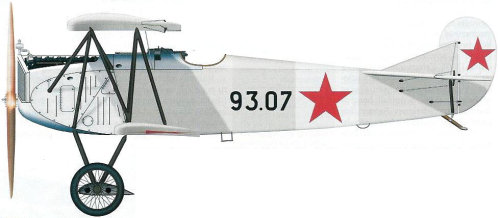 MAG Fokker D.VII, 8. Vörös Repuloszázad, Hungarian Soviet Republic, Summer 1919.
---
Sources & Literature
Brzkovský, Marek - Šafařík, Jan: Žhavé nebe nad Československem, Letecké souboje československých stíhačů nad naším územím 1918–1989, Euromedia Group, a. s. v edici Universum, Praha 2021. ISBN: 978-80-242-7486-7





Bernád, Dénes: A Roman Kiralyi Legiero elso magyrorszagi hadjarata, Aero Historia magazine, August 1991, Hadtorteneti Muzeum es Kozlekedesi Muzeum, Budapest, Hungary.
Franks, Norman - Guest Russell - Alegi, Gregory: Above The War Fronts, A Complete Record of The British Two-Seater Bomber Pilot And Observer Aces, The British Two-Seater Fighter Observer Aces, And The Belgian, Italian, Austro-Hungarian And Russian Fighter Aces 1914-1918, Grub Street, London 1997.
Renner, Stephen: Broken Wings, The Hungarian Air Force, 1918-1945, Indiana University Press, 2016. ISBN 978-0-253-02339-1
Stach, Robert: Die ungarische Fliegertruppe von 1918 bis 1919, in ÖFH nachrichten, No.2, 2004.
Tesař, Pert Aharon: 3. vörös repülöszázad, 3. rudý letecký oddíl, in REVI, No.58, 2005.
Tesař, Petr Aharon: Magyar Tanácsköztársaság Légierö, Letectvo Maďarské republiky rad, in Letectví + kosmonautika Speciál, No. 10 (1/2008).
Zahálka, Jan - Tesař, Petr Aharon - Skolil, Zdeněk: Aviatik D.I & D.II, JaPo Publications, 2002.


Gleize, Jean-Paul: Aces, http://www.igleize.fr/aces/homeaces.htm.
Magnus, Alan: Air Aces Home Page, http://users.accesscomm.ca/magnusfamily/airaces1.htm.
---