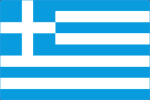 GREECE
Greco-Turkish War 1919-1922

NAME                         VICTORIES       UNIT            COMMENTS

Stavropoulos, Christophoros      1           Moira B
Petropouleas                     1           Moira B         1.
Katsoulakas                      1                           2., observer
St. Philippas                    1                           2.

Comments
Forced to land.
No losses in the turkish archives.
---
Air-to-Air Victories
Date
Unit
Aircraft
Pilot
Victim
Place
18.8.1920
Moira B
SPAD VII
Petropouleas
Breguet 14
around Usak
21.6.1921
Airco DH 9
St. Philippas,
Katsoulakas (obs.)
e/a
maybe near Kutahya
25.7.1922
Moira B
SPAD VII
Petropouleas
Breguet 14A-2(*)
north of Afyon Karahissar
(*) Pilot Ahmed Bahattin Bayam, observer Ceram Bey. Crew is buried by the greeks with full military honors.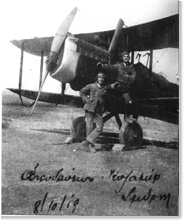 AIRCO De Haviland DH4 at Kazamir airfield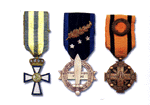 Decorations awarded to officers
Cross of Valour, Military Cross, Medal of Military Merit

Pilots' brevet.
---
Much information kindly provided by David Méchin.
---
Sources & Literature
Researcher David Méchin.
Méchin, David: ΚΑΤΑΣΤΡΟΦΗ (Catastrophe), Le conflit d' Asie Mineure 1919-1922, in Avions, No. 156, Mars-Avril 2007.
Nikolajsen, Ole: Pilot Fazil Bey - An Aviation Hero, http://www.ole-nikolajsen.com/fazil.htm
Hellenic Air Force History, Campaign in Asia minor, http://www.haf.gr/en/history/history/history_4.asp
Gleize, Jean-Paul: Aces, http://www.igleize.fr/aces/homeaces.htm.
---

Copyright © Jan Josef ŠAFAŘÍK
Generated: Sat Sep 20 20:43:42 CEST 2008