VICTORIES
NAME                              CONFIRMED  UNCONFIRMED   UNITS                    AIRFORCE

Rennella Barbatto, Cosimo 'Cosme'    7  [5+2]    10        31a, 32a, 48a, 45a, 78a  Av. Militare

---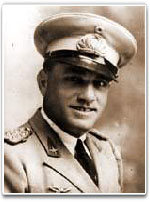 Cosimo 'Cosme' Rennella Barbatto
---
Sources & Literature
Franks, Norman - Guest Russell - Alegi, Gregory: Above The War Fronts (A Complete Record of The British Two-Seater Bomber Pilot And Observer Aces, The British Two-Seater Fighter Observer Aces, And The Belgian, Italian, Austro-Hungarian And Russian Fighter Aces 1914-1918), Grub Street, London 1997.
The Aerodrome, http://www.theaerodrome.com/aces/by_nation.php.
Gleize, Jean-Paul: Aces, http://www.igleize.fr/aces/homeaces.htm.
The Aerodrome Forum > Archives > 2001 > WWI Italian ace might be from Ecuador?, http://www.theaerodrome.com/forum/archive/index.php/t-11024.html.
História de la Fuerza Aérea Ecuatoriana; Cosme Renella B., http://www.geocities.com/RainForest/Andes/1340/FAE-HISTORIA.htm.
El Factor Humano en la Aviación, http://www.galeon.com/cosme-alvarez/historia.html#cosme.
---