BRAZIL
Brazilian Constitutionalist Revolution 1932

NAME                                     VICTORIES                 AIRFORCE

Rodriguez, Lysios Augusto                    1                     Aviacao Constitucionalistas
Pereira, Abilino                             1                     Aviacao Constitucionalistas

---
Air-to-Air Victories
Date
Unit
Aircraft
Pilot
Victim
e/a Unit
08.08.1932
Aviacao Constitucionalistas
Potez 25 TOE
(A-212, c/n 1819)
L. A. Rodriguez
A. Pereira (*)
Potez 25 TOE
(A-177, c/n 1832)
Grupo Misto de Aviacao Paulista
(*) ... gunner

---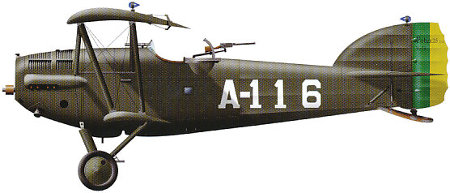 Potez 25TOE.
---
Sources & Literature
Flores, Jackson, Jr.: The Brazilian Air War, in Air Enthusiast No. 35, Jan-Apr 1988.
Hagedorn, Dan: Latin American Air Wars 1912-1969, Hikoki Publications / Specialty Press, 1st edition, November 30, 2006. ISBN: ISBN-13: 978-1902109442
Hagedorn, Dan: Letecké války a letadla v Latinské Americe 1921-1969, Naše vojsko, Praha 2011. ISBN: 978-80-206-1233-5
History of the Brazilian Air Force, http://www.mat.ufrgs.br/~rudnei/fab/eng/histrevo.html.
Magnus, Allan: Air Aces Home Page, http://users.accesscomm.ca/magnusfamily/airaces1.htm.
---

Copyright © Jan Josef ŠAFAŘÍK
Generated: Fri May 5 10:22:34 CEST 2017