NAME                                                         VICTORIES    AIRFORCE    COMMENTS

Kurbanov, Vagif Bachtijar  Курбанов, Вагиф Бахтияр оглы          1        AzAF        damaged


---
Air-to-Air Victories
| Date | Unit | Aircraft | Pilot | Weapon | Victim | Country |
| --- | --- | --- | --- | --- | --- | --- |
| 9. 5. 1992 | AzAF | Su-25 | Kurbanov, V. B. | 30mm | Yak-40 damaged | ArAF |

AzAF - Azerbaijan Air Force
ArAF - Armenian Air Force

---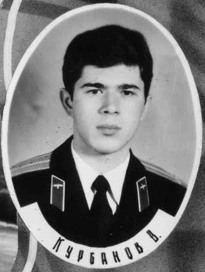 Курбанов, Вагиф Бахтияр оглы
Qurbanov, Vaqif Bəxtiyar oğlu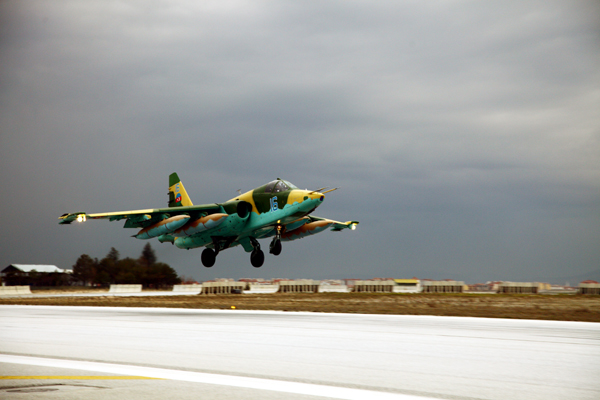 Sukhoi Su-25, Azerbaijani Air and Air Defence Force / Azərbaycan hərbi hava qüvvələri.
---
Sources & Literature
Марковский, Виктор Юрьевич - Приходченко, Игорь Владимирович: Су-25 "Грач", Всё о грозном штурмовике, серия «Война и мы. Авиаколлекция Сирийской войны», Эксмо, Яуза, 2016.
Mickolus, Edward F. - Simmons, Susan L.:Terrorism, 1992-1995: A Chronology of Events and a Selectively Annotated Bibliography, Greenwood Publishing Group, 1997.
Mladenov, Alexander: Su-25 'Frogfoot' Units In Combat, Combat Aircraft 109, Osprey Publishing, April 21, 2015.
Mladenov, Alexander: Sukhoi Su-25 Frogfoot, Air Vanguard 9, Osprey Publishing, September 17, 2013.
Жирохов, Михаил Александрович: Карабах: хроника воздушной войны, Горячая точка, Авиамастерm № 6, 2000.
Жирохов, Михаил Александрович: Меч и огонь Карабаха, Хроника незнаменитой войны, 1988-1994, Центрполиграф, 2012. ISBN 978-5-227-03227-0
Жирохов, Михаил Александрович: Воздушная война в Нагорном Карабахе, альманах 'Легенды и мифы отечественной авиации', № 4, 2012.
Жирохов, Михаил Александрович: Война в Карабахе, Наука и Техника, № 3, 2013.
Жирохов, Михаил Александрович: Армянская гражданская авиация над Карабахом, Арсенал-Коллекция, № 8 (17), 2013.
Жирохов, Михаил Александрович: Боевая авиация Армении в ходе войны в Карабахе, Авиация и Время, № 1, 2014.
Жирохов, Михаил Александрович: Карабах: война в воздухе, Крылья Родины, № 5 (767), 2016.
ACIG Team: Russian and Other Air-to-Air Victories since 1991, ACIG.org, http://www.acig.info/CMS/.
Cooper, Tom: Air War over Nagorniy-Kharabakh, 1988-1994, ACIG.org,http://www.acig.info/CMS/.
Criminal Acts Against Civil Aviation - 1992, U.S. Department of Transportation, http://www.dtic.mil/cgi-bin/GetTRDoc?AD=ADA268014&Location=U2&doc=GetTRDoc.pdf.
Инцидент с армянским Як-40 (9 мая 1992), Википедия—свободная энциклопедия, http://ru.wikipedia.org/wiki/Инцидент_с_армянским_Як-40_(9_мая_1992).
Курбанов, Вагиф Бахтияр оглы, Википедия—свободная энциклопедия, http://ru.wikipedia.org/wiki/Курбанов,_Вагиф_Бахтияр_оглы.
Magnus, Alan: Air Aces Home Page, http://users.accesscomm.ca/magnusfamily/airaces1.htm.
Случайные жертвы: атакованные и сбитые гражданские авиалайнеры, https://dzerginsk.by/news/2015/07/17/sluchaynye-zhertvy-atakovannye-i-sbitye-grazhdanskie-avialaynery.
Жирохов, Михаил Александрович: Авиация в Армяно-Азербайджанском конфликте, Уголок неба, http://www.airwar.ru/history/locwar/xussr/karabah/karabah.html.
Жирохов, Михаил Александрович: Карабах: война в воздухе, Військово-патріотичний центр "Третій полк" https://3polk.com.ua/articles/blogs/karabah-vojna-v-vozduhe.html.
---